The Demand for a girls Goalie School has been tremendous for the past few years. There is so little instruction for girls lacrosse goalies that Coach Pilat must turn campers away each Summer to ensure quality instruction at his Goalie School. Coach Mary Schwartz  run the field component of the Girls Goalie School, using the same curriculum as the biggest boys goalie camp in the land, The Goalie School.
Colorado – June 1-4, 2017
Full – Waitlist Only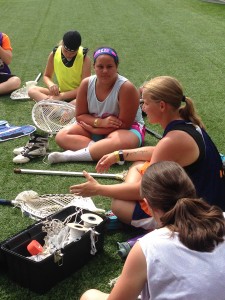 The Colorado session of THE GOALIE SCHOOL this Summer is held at beautiful University of Colorado at Boulder – outside of Denver, CO. For Girls only, campers can expect the same outstanding instruction as the boys Goalie Schools.
The total cost for either session of Girls Goalie School is $720.00. This fee includes all instruction, meals, lodging, personal video, camp jersey, and other clothing and giveaways. The winter session in December costs $730.00.
Don't Miss Out!  Sign up NOW! 
Coach Pilat will be teaming up with Mary Schwartz, current head women's lacrosse coach at Roanoke College. Coach Schwartz is a former Division I goalkeeper at the University of Maryland who knows what it takes to be successful in the women's game.
Great instructional staff to work with all goalies
4 to 1 Camper to Staff ratio; the best ratio in lacrosse camps
Programs with a strength and agility coach
Fun and exciting goalie games
Coaches talks and demonstrations
OVERNIGHT CAMP AMENITIES
• 3 nights lodging • All meals
• Reversible Nike practice jersey
EXTENDED DAY CAMP AMENITIES
• Lunch & dinner
• Reversible Nike practice jersey
• Camp hours: THURS 2PM-8PM, FRI-SAT 9AM-8PM, SUN 9AM-12PM